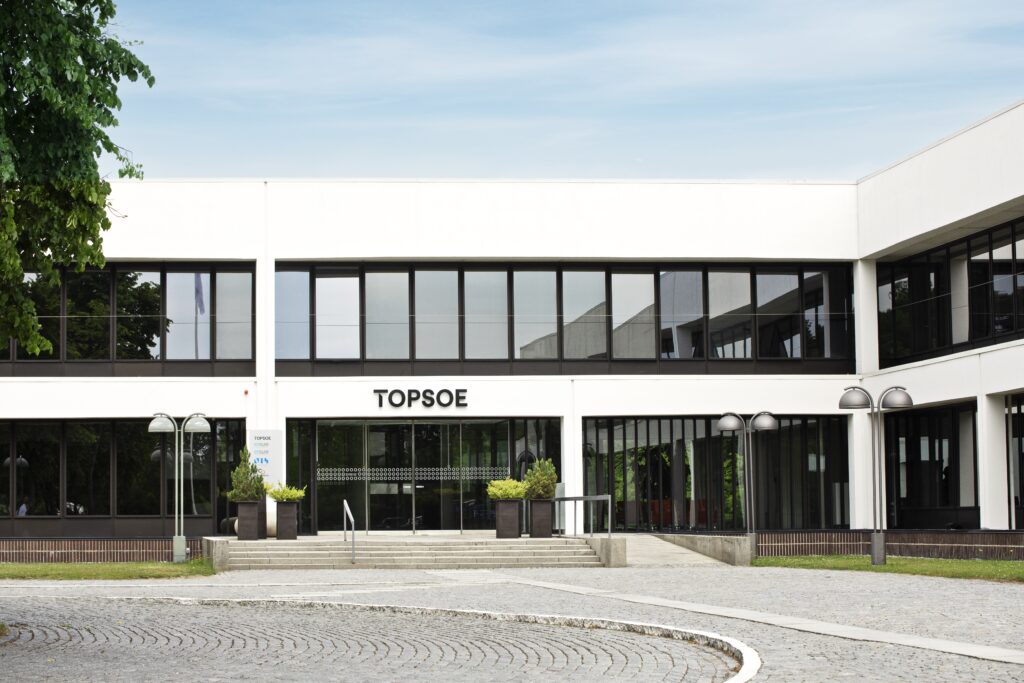 Danish Topsoe helps companies and societies transition to a greener future by providing decarbonization technologies and solutions. Transition was also the operative word for the company's approach to annual reporting this year as they launched their first integrated report. Global Corporate Communications Director Tine Louise Holmer and Sustainability Specialist Stinne Hjulmann talk to us about what this has involved – and share their top tips for a smooth transition into integrated reporting. 
What role does the annual report play in Topsoe's corporate comms mix?
Tine: For us, the annual report is an important brand communication product. It's where we can tell the bigger story about our company. Who we are, where we're going, and what we want to achieve.
Previously, Topsoe brought out two reports. A financial and a sustainability report. But historically, they have been somewhat of a compliance exercise. This year, we brought out our first integrated report. And that's been a really important step towards making the report an important part of our communication mix.
We also recently introduced a new name, a new strategy and a new brand identity. So it really made sense to use the annual report as the central platform to talk about the new Topsoe and the new strategic direction we're taking. Hopefully, this will also work to create more interest in the report, both internally and among our customers, partners and potential employees.
You're really redefining the role of your annual report?
Tine: Yes, that's right. We want our report to be an asset that tells the story of our business, engages readers in our ambitions, and reflects the environmental and social responsibilities we're taking.
And we don't want it to be a one off, something we publish in March and then that's it. We want to keep it alive throughout the year. There are lots of great stories in there that we can unfold and expand on other platforms.
To support this approach, we are developing a strategic communications plan around the report – how to launch it, and how to use elements from it throughout the year in our communication with our stakeholders.
This year, you also took the big leap into integrated reporting. How did you prepare for your first integrated report?
Stinne: Already in the preparation of last year's two reports, we realised that the strategies, needs, ambitions and stories were pointing towards a clearer focus of how sustainability and business are integrated and the need to tell a more holistic story. In addition, we were aware that the CSRD (Corporate Sustainability Reporting Directive) was coming, so we had to start preparing for that, too.
We pitched our idea of merging our two reports into one to the Audit Committee in August 2022. We prepared carefully for that, to make sure that both the Audit Committee and Senior Leadership understood how the integrated approach would future proof our reporting – and how having one report that spoke with one voice would be a much stronger strategic and commercial asset for the business.
Taking the step into integrated reporting this year might seem a bit crazy – or should I say adventurous. We've only reported on sustainability since 2018, and there are still areas we need to mature, for instance in terms of our approach to data capture and analysis. But as Tine said, the fact that sustainability is such an integrated part of our strategy made it a lot easier to connect the financial and the ESG tracks. It also made us far more motivated to do so.
So even though there was still a lot to learn, you still decided to take the leap this year?
Tine: Doing an integrated report clearly supports the strategic direction Topsoe is taking. If we put sustainability at the core of our business – which is what we are committed to at a very ambitious level — our way of reporting obviously needs to reflect that.
It also just seemed like an opportune moment to take this step. With a new strategy and a new brand, we were at a point where we were building things from scratch anyway. In a way, the transition of the business gave us a clean starting point for a new approach to reporting.
The transition into integrated reporting is something many companies are considering at the moment. Which challenges did you experience in the process?
Stinne: I'd say figuring out the best way of working together across teams and setting up best practices for merging the financial and sustainability tracks was definitely a complex process. We had to integrate the two approaches and bridge any gaps between them, to make sure that we approached ESG data in the same manner as financial data. I think we've managed to build a good foundation, but it's been a steep learning curve.
But we are lucky in the sense that we are not trying to communicate a disconnected business in a cohesive way. Our strategic direction focuses on helping the world decarbonize by pursuing sustainable business opportunities. This makes integrated reporting the obvious choice.
And have you seen any benefits from the shift to integrated reporting?
Stinne: Absolutely. Before, we had two tracks of reporting that we had to coordinate. Now we only have one. That's much more efficient.
The integrated report has also raised the status of sustainability reporting internally. Previously, the sustainability report was kind of the 'little brother' to the annual report. The fact that the two are now combined has given sustainability reporting more prominence throughout the organisation.
Another really important benefit has been the collaboration across functions. Embedding knowledge, building capacity, and learning from each other. Now, the comms, sustainability and finance teams know far more about what each team does. That has a positive spill-over effect on all the other projects we work on together.
Tine: I completely agree. It's obviously been hard work and, as you say Stinne, a steep learning curve. But we've had fun along the way, too. It's really rewarding to build something new together. Something that everyone can be proud of. And, judging by the positive feedback we've had from the organisation so far, we're on to something good here.
The thing is, our report is not just a product we're creating for our shareholders or the Senior Leadership. It's a product that we're making for the whole organisation. Something that everyone can use to tell the Topsoe story. And something our customers, partners and prospective employees can go to get the full story.
Stinne: I think that's exactly what makes the report we brought out this year so different from previous years. It has more of a story. One that makes sense of all the numbers and ties the report together. That's really elevated our report as a communications product. Making it far more than a compliance document.
Tine and Stinne's top tips for a smooth transition into integrated reporting
Get executive sign-off early: Involve your Audit Committee and Senior Leadership Team at an early stage to get their support. Prepare your pitch. It's crucial that they understand the value of this approach to the business – and what it will involve. Also from them.
Create a framework for teamwork: An integrated report relies on solid teamwork. Get the framework for how you work together across teams in place early, defining roles and responsibilities. Recognize the expertise that each team brings to the table – and make sure it comes into play in the right way.
Establish the mindset. Integrated reporting is an ongoing journey, not a final destination. You won't get it perfect the first time, you just need to get started, learn as you go along, and use that to refine the process and the product.
Get your story straight. The core narrative is crucial. It works to engage people and make sense of your performance and commitments. Define it early on and use it as the framework for what to include and exclude in the report.
You can download Topsoe's Annual Report 2022 here.