About Stak
Stak is an award-winning independent podcast company which makes seriously entertaining audio.
Founded around a kitchen table – "a bunch of mates doing a podcast before podcasting was big" – Stak's first podcast, The Football Ramble, is a household name in the footballing world. Stak kept growing too. From one show, it's become a show business, making podcasts about everything from science to Irish history.
Yet, despite hundreds of thousands of listeners tuning in to its shows every week, many wouldn't have heard of the studio behind them. In an age where production and content studios are becoming widely known, Stak had never told its story. Its partners wanted to create a brand and raise awareness.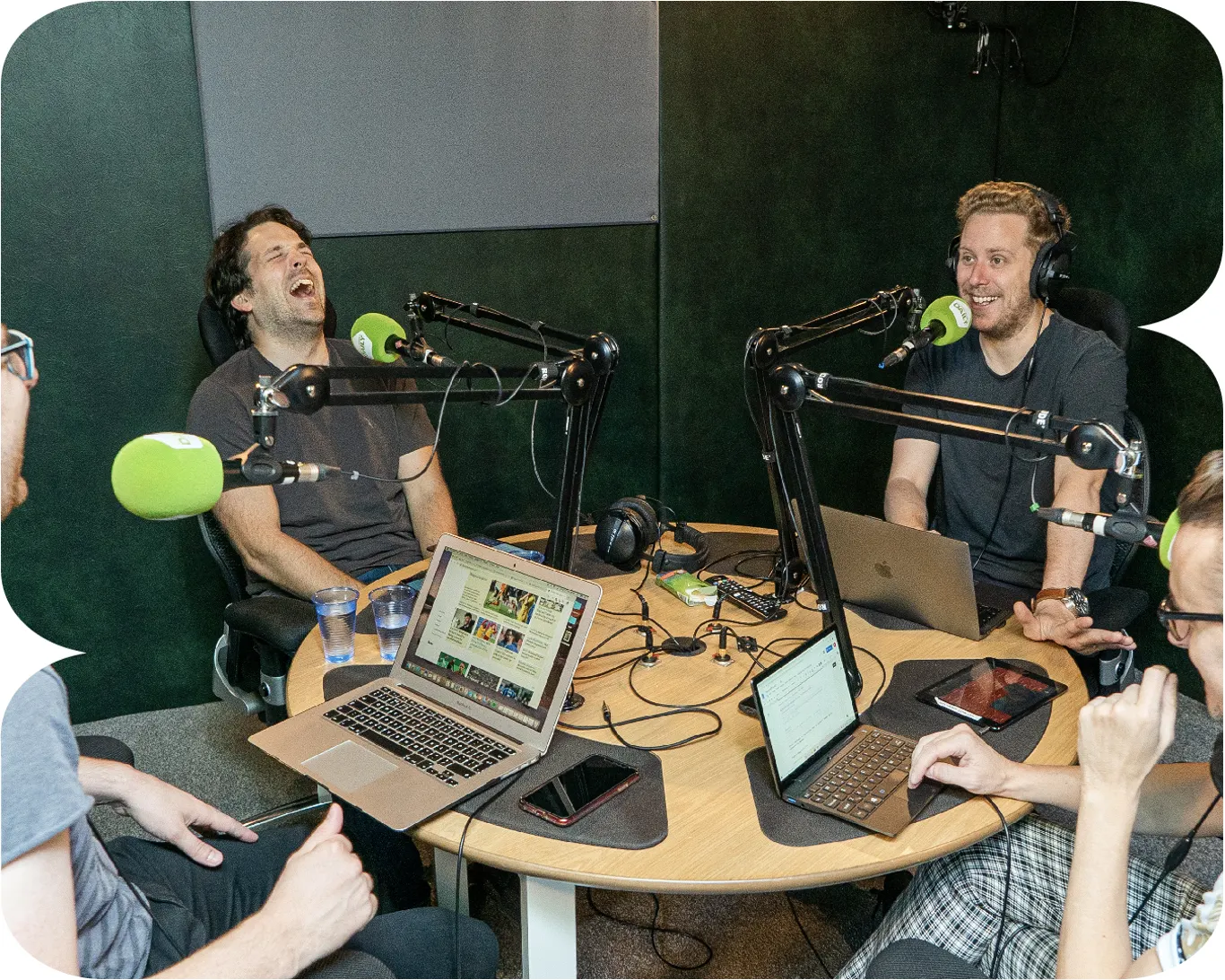 How we worked together
We ran a workshop with its founders and broader team to uncover more about Stak's audience and what made them different to any other podcast company.
Our workshop included several exercises to glean more information, including one where we asked team members: "If Stak was a sportsperson, who would it be and why?"
One of the strengths of running a workshop was how it united its wider team of producers and content creators behind the brand. Stak's people knew how the company was founded, but it was now a larger, highly-skilled, multi-generational team looking to reach new audiences on new topics.
One of our challenges was to almost distance Stak from its footballing roots to define and celebrate what it has become.
What we created together
We created 'Say it like Stak', a brand book for its employees and industry and marketing partners which captured the essence of Stak. This would give people everything they needed to tell Stak's story.
The document included Stak's purpose, values, personality attributes and tone of voice guidance – as well as advice for users on what parts to pay attention to and when. It covered the key messages they should repeat to make them memorable and set them apart.
Then, it played out Stak's story in different ways, to help others tell it in different places.
What Stak said
"SR were fantastic at getting to know our team, what makes us tick, and then distilling everything into a clear and engaging brand philosophy, culminating in Say It Like Stak, which has now become something of a manifesto for our business. They did all this while being respectful to our history and values, fun and great company to be around!"